"Classroom to Cloud," which is our district name for extended e-learning, will be done through our google classroom page. Students have been accessing work through this site all year and should be very familiar with it. If you or your student would like to be notified of Classroom to Cloud assignments some other way, please email me at lacey.deshazo@trussvillecityschools.com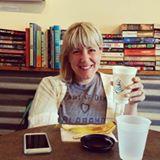 Phone: (205) 228-4090
Email:
Degrees and Certifications:
BA from Auburn University Masters from UAB
Lacey deShazo
I got a BA in English at Auburn University.
I studied Secondary English Education at UAB and received a Masters from there in 2007.
I've been teaching at Hewitt since 2007.
I also write for Book Riot, the largest independent editorial book site in North America.
My favorite hobbies are reading (I love literary fiction, horror, romance, and YA), exploring new attractions in the Birmingham area and beyond, exercising (when I get the motivation), watching Netflix, and cooking new dishes.
My two favorite novels are John Steinbeck's East of Eden and Toni Morrison's Beloved.
***See supply lists below.