2019 - 2020 TCS Calendar

Pictured below is an image of the official 2019-2020 Trussville City Schools Calendar in the format in which it was approved. Student holidays are shown in red. The printable color-coded TCS Calendar in PDF format can be accessed for printing by visiting the 2019-2020 School Calendar pdf.

A list of all dates and school specific information regarding trimesters, grading periods, and important school dates can be found below the image, at the bottom of the page.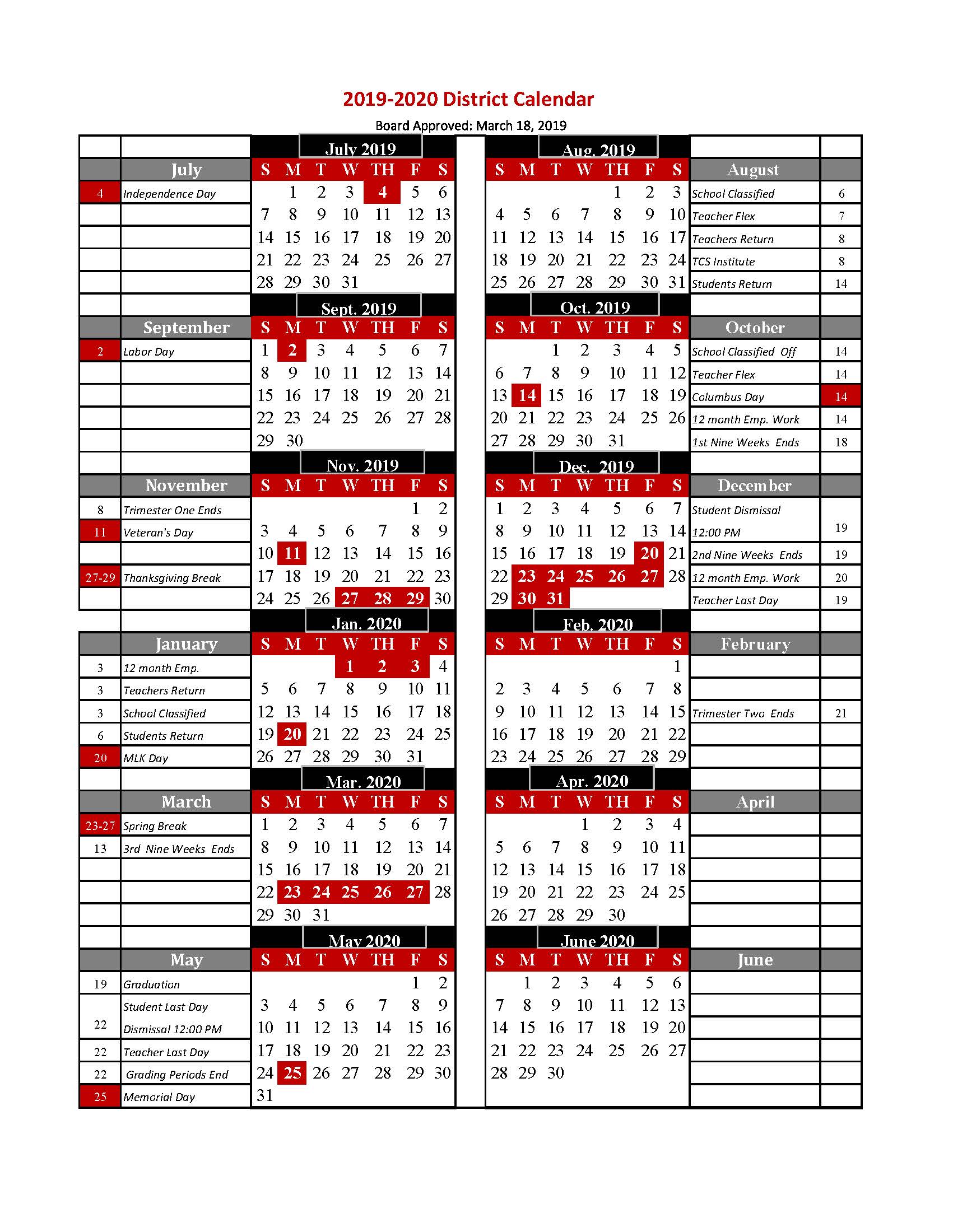 2019-2020 TCS School Year Calendar

July 4 – Independence Day
August 6 – School Classified Staff Return
August 7 – Teacher Flex Day
August 8 – Teachers Return
August 8 – TCS Institute
August 14 – Students Return
September 2 – Labor Day
October 14 – School Classified Staff Off
October 14 – Teacher Flex Day
October 14 – Columbus Day
October 14 – 12-Month Employees Work
October 18 – 1st Nine Weeks Ends
November 8 – Trimester One Ends
November 11 – Veteran's Day
November 27-29 – Thanksgiving Break
December 19 – 2nd Nine Weeks Ends
December 19 – Student Last Day Dismissal at noon
December 19 – Teacher Last Day
December 20 – 12-month Employees Last Day

January 3 – 12-Month Employees Return
January 3 – Teachers Return
January 3 – School Classified Staff Return
January 6 – Students Return
January 20 – Martin Luther King, Jr. Day
February 21 – Trimester Two Ends
March 23-27 – Spring Break
March 13 – 3rd Nine Weeks Ends
May 19 – Graduation
May 22 – Student Last Day Dismissal at noon
May 22 – Teacher Last Day
May 22 – Grading Periods End
May 25 – Memorial Day