Return to Headlines
Alumni Spotlight: Katherina Spusta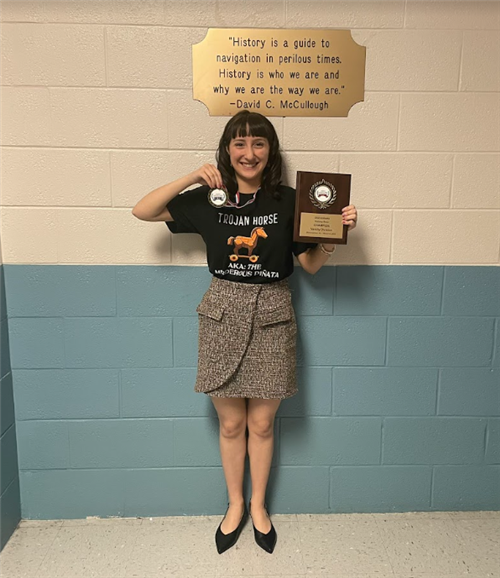 08/19/2022
Author: Katherine Spusta (Class of 2022)
NJ - I attended the International History Olympiad from July 25th to August 1st in New Jersey. The competition involved four different divisions: Elementary, Middle, Junior Varsity, and Varsity. I was one of thirty-one competitors in the Varsity division and the sole competitor from Alabama. The competition was extraordinary and offered me a great opportunity to prove my skills and meet people from across the country and world.

The Hextathlon, a team event, was the first event I medaled in. The team I was placed in was composed of myself, from Alabama, Adithya from Tennessee, and Jack from Indiana, with our team's name being Interstate 65. The Hextathlon had six components: Multiple Choice, Audio, Visual, Crossword, Map Quiz, and Fill in the Blank. Our team ended up winning 3rd that night and receiving a bronze medal.
On July 28th, I competed in the International History Bowl with my teammates from the Hextathlon, and though we did not medal, we qualified for Quarterfinals.

On the 29th, I won second on the American Indian History Exam and second in the Pop Music History Bee. The next day, I won second in the China Belt and Road Initiative Task Force and first in the Art History Bee. It was extraordinarily exciting to win my first gold, especially as Art History was one of the primary events I had studied for before coming to the competition.

On the 31st, during the Closing Ceremony, the results of the Country Exam and overall champions of the International History Olympiad were announced. I ended up placing first in the Country Exam, with the extra questions providing me with the extra number of points I needed to tie for first. Since my answer to the tiebreaker question on the back of the exam was the closest, I had earned first. When the standings for the International History Olympiad were announced, I was ecstatic to learn that I had been fifth overall. The state of Alabama was ultimately in 13th place out of forty different states and countries in terms of medals.