Return to Headlines
HTHS Scholars Bowl Breaking Records in Many Ways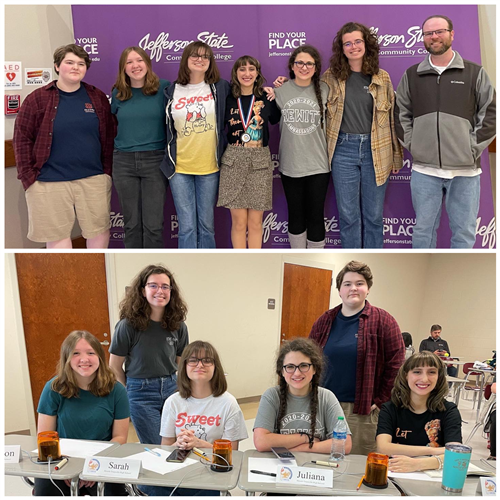 April 05, 2022
Jennifer Coleman

HTHS - When the Hewitt-Trussville High School Varsity Scholar's Bowl team heads to the National Academic Quiz Tournament in Atlanta in May, they'll do so as a record-breaking team.
Not only are they the highest-scoring team in school history, they're also all girls – a rarity in the male-dominated world of academic trivia competitions.
Coach and history teacher Josh Haynes didn't set out to create a team that would shatter gender conventions, but he said other coaches and match moderators often comment their surprise at seeing an all-female team.
"One moderator who's been doing tournaments since the late '70s said in all his years he's only seen two teams of all girls, and the other one was from an all-girls Catholic school in the '80s," Haynes said.
The Hewitt-Trussville Scholar's Bowl squad currently has six female senior players, each specializing in a different area. Think of it like the Avengers assembling, but this is a roll call of a different type of superhero: captain Juliana Eberhardt, science; Sarah Prince, literature; Katherine Spusta, history; Wei Wei Guo, fine arts; Laura Phillips, history; and Madison Morris, geography.
Each senior is insistent, though, on the fact that what makes the team special is their success, not their sex.
"It's neat to be one of the first, but I think the main thing is not being an all-girl team, but being a really good all-girl team," said Spusta.
Todd Parker is a state championship-winning coach at Spain Park High School and has been working with Scholar's Bowl for a decade.
"If we have competed against another all-female team, I certainly do not recall it," Parker said. "Without question I have never encountered one as gifted and bright as these young ladies."
In fact, the Hewitt-Trussville varsity scholar's bowl team has played another all-girls team. It happened at a tournament earlier this year when they were matched up against the Hewitt-Trussville junior varsity team. That's right – Hewitt-Trussville fields not one but two all-female teams.
"I never intended to create an all-girls team, but it's been incredible to see them go against all-boys teams and not crack under the pressure," Haynes said.
So how did this feminine force come into being?
Prince, who joined the team on a whim when she couldn't find the Girls in Engineering club that she was looking for, held up her pointer finger.
"I have a theory," she said and then explained that because engineering is such a male-dominated field, many girls are often discouraged from joining. "This is gender-flipped engineering. Now all the guys look at us and say, 'I don't want to hang out with the girls.'"
Phillips added in jest, "We scared them all away."
But then Guo also raised her pointer finger and interjected, "I have another theory. We're all really good friends. And the JV team is also really good friends. We come in packs."
Secret to success
Coach Haynes credits the players' friendships as the foundation for their success.
"The reason they work well together is they know each other," he said. "They encourage each other."
After matches, he's noticed that the scratch paper teams can use will often have small messages scribbled in the margin: "Don't get down. We'll get the next question right."
When asked to describe the dynamic of their team, consensus forms around one term: "aggressive cheering." They laugh when recalling memories of other teams and coaches getting annoyed by their animated reactions.
"We celebrate things," Eberhardt said. "And we also make a very conscious effort not to get frustrated with each other. I've seen teams where they look so angry at their other members."
In February, the team went undefeated at the Alabama Scholastic Competition Association District Qualifier in Gadsden, winning all 4 of their matches. Afterward, they stopped to eat at a local Mexican restaurant. Haynes recalled being on a post-win high, ready to dissect every aspect of the tournament. But the girls had moved on from the tournament to planning their outfits for Spusta's 18th birthday party, a 1920s-themed bash.
"As I was listening to them, it brought me back to my roots," Haynes said. "This is what [Scholar's Bowl] is about. It's the relationships, the camaraderie. It's bigger than trophies. It's bigger than victories."
Dork is the new cool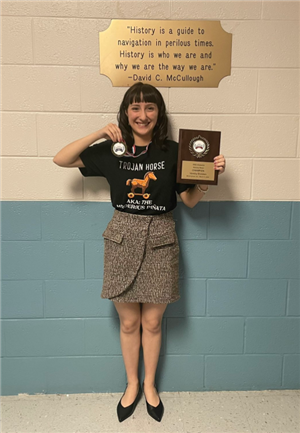 This is not to say that there haven't been victories. Most recently, the varsity team advanced to the Elite Eight in Alabama's state championship tournament. This was the furthest a HTHS has ever made it in the state tournament. The JV team won the junior varsity division of the LAMP Invitational in Montgomery on March 12. And on March 5, Spusta took on whole teams to single-handedly win both the Alabama History Bowl and the Alabama History Bee. While the History Bee is a competition for individuals, the History Bowl is designed for teams.
"There is something special about seeing one student – by herself – take down entire teams of predominantly boys," said Haynes. "She won it all against incredibly tough competition. Katherine Spusta knows a lot of things that I've never even heard of, and I have two degrees and majored in history."
Spusta moved to Alabama from California with her family this fall, but she's been competing in history bowls and bees since middle school.
"My freshman year in a bee competition, there were 270 players who went to nationals, and only 10 of them were girls," she said.
Theories abound for why more girls don't participate in trivia.
One common idea is that girls favor collaboration over competition, but Spusta was quick to dismiss this idea: "I love competition. I love to win."
Another theory is that girls are turned off by the "nerdy" nature of trivia competitions and don't view Scholar's Bowl as cool. Guo, who is normally soft-spoken, became emphatic and unequivocal when asked for her thoughts on whether trivia isn't ladylike: "The hottest thing is to be intelligent and know random facts."
Her assessment was met with giggling, clapping, and cheering from her fellow teammates.
"I fully embrace the nerd," said Phillips.
Added Eberhardt: "I don't think there's that stigma against dorkiness. A lot of cheerleaders are the smartest people in our math class."
If there's one theory the team agrees with, it's that boys are more comfortable buzzing in and risking being wrong.
"Boys are typically eager to be correct. They're aggressive. They dare to be right," Haynes said. "But there does seem to be some hesitation in girls. They want to be 90-100 percent sure before buzzing in."
This is something that Haynes has tried to coach the team through, and the girls all agree they've worked to get over their fear of being embarrassed.
"We've improved on that," Eberhardt said.
They've gotten to the place where they can laugh at their worst mistakes – like the time when the answer was "Neville Chamberlain" and Prince answered "Charlie Chaplin" or when Spusta meant to answer "Dolly Madison" and misspoke and said "Dolly Parton."
As captain, Eberhardt has carefully observed the ongoing gender dynamics of other teams.
"An interesting thing about the gender divide is that, a lot of times, the lead fast scorers on teams are guys, but a lot of captains are girls," she said. "The ones who have to listen to the rest of the team and give the team's answers are girls."
And here, Prince had another theory for why this is: "Well, because they have self-control." Prince recalled past male teammates that were resistant to listening to suggestions or input before reflexively delivering an answer.
According to Haynes, this female team breaks all the typical stereotypes except one: They hate sports questions.
"They can answer things about nuclear physics, but when it comes to sports, they don't have it," he said.
At a recent after-school practice, Haynes had written a series of questions about sports figures and events to help the team prepare. One question asked for the name of the NFL player who walked away from professional sports to serve in the Army. After a few moments of silence, random guesses rang out: "Lebron James?" "Manning?" The answer was Pat Tillman. They laughed at themselves for a few moments and then moved on to the next question.
The future is female
With their high school careers drawing to a close, the team has its sights set on some unrealized goals: beat their cross-town rivals and make the playoffs at nationals.
They've also begun thinking about the legacy they're leaving.
Morris sees the upcoming JV team as part of their senior legacy. They've proved to the sophomores that all-female teams can compete and win at every level, she said.
Eberhardt is proud of the way their success and desire to improve pushed the program forward.
"When I came in, the science [materials] were very lacking because Mr. Haynes is not a science person," she said. "I exhausted everything he had made, and he had to make more stuff. I feel personally proud of that."
Almost all of the team's practice materials are resources that Haynes has compiled and created in his spare time. He's about to have a lot less time on his hands, though. He and his wife are expecting their first child this summer. It's a girl.