Return to Headlines
Leadership Hewitt-Trussville Rounds Out Inaugural Year With Great Success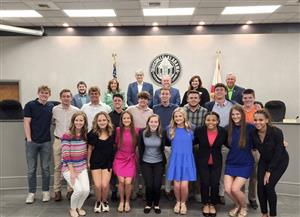 19 May 2022
Jason Gaston/Amber Benson
HTHS - Leadership Hewitt-Trussville presented various city improvement project ideas to the Trussville City Council at its April 26th meeting. This class spent the 1st semester attending lunch-and-learn meetings to gain a behind-the-scenes perspective of their city and learn from their city leaders. After months of studying the City's 2040 plan, observing areas for opportunity, and brainstorming, six ideas were selected for implementation.
Students formed groups to research, plan, and budget projects. In the weeks leading up to the City Council presentation, each group presented to their respective city boards. These presentations included the Trussville Rotary Daybreak Club, Chamber Board, Parks & Rec Board, Library Board, Design Review Committee, HTHS Administration, and TCS Director of Facilities. Students received feedback, recommendations, and funding - all the while gaining valuable insight into city decision-making processes.
At the April 26th City Council meeting, Leadership HT received approval and matching funds to implement each project. This inaugural group of juniors and seniors has created a legacy for not only their community but future Leadership Hewitt Trussville classes. The Leadership HT class is beyond grateful for the support and guidance from the City of Trussville, Trussville Area Chamber of Commerce, and Trussville City Schools.
Funding support from the Trussville City Schools Foundation MUSH grant, Jefferson County Commission grant, Trussville Rotary Daybreak Club grant, anonymous donors, and matching funds from the City of Trussville.
Project overviews
Welcome to Downtown Trussville Signage:
The Trussville Welcome Sign group, consisting of Marley Carmichael, Ryan Cook, and Rubie Simon, has had the great opportunity to bring a new welcome sign to Downtown Trussville. Their project idea stems from their great pride in all the city has done in redeveloping Trussville's downtown district. Over the past couple of months, they have met with council member Ben Short and the Trussville Design Review Committee to develop signage. They believe this will help highlight all of the great work that our city has done to improve our city. They received approval from the City of Trussville, and hope that our project will give a nice welcome to the community, visitors, future residents, and potential investors!
Community Garden:
The community garden group consists of Alayna Hall, April Hooks, and Stella Jackson. This group has a heart for connecting and educating the community. They presented to numerous groups, including Trussville Daybreak Rotary, the Library Board, and City Council. The community garden has received donations and funding. It will consist of 4-6 raised plant beds located behind the adult reading section at the Trussville Public Library. They will be creating a "Friends of the Garden" group to ensure the garden produces for many years to come.
Cahaba River Sitting Area:
The Cahaba River sitting area is a project to be implemented in Civitan Park by the Cahaba River in the next couple of months. Ashton Gay, Emma Pope, and Mary Reeves make up this group. Their project builds off the City's 2040 plan, making this area sustainable, efficient, and available for everyone to use. Once fully implemented, this area will include picnic tables, benches, and a rain garden. They hope this will become an area used for educating elementary students, high school study groups, book clubs, and senior center activities.
Running Map:
Wiley Fields, Thomas Shaffer, and Collin Sims took on the task of getting Trussville outside. The running route is intended for beginner runners to know how much they have run and where to start! Their goal is to get Trussville active and keep Trussville active! With this project started, future classes are set up to add routes and signage.
Community Impact Awards:
In Leadership Hewitt-Trussville our goal is to connect the school to the community. Stuart Dickson, Robert Morrow, and Andrew Shelton recognized the need to support local businesses. The Leadership Hewitt-Trussville Community Impact Awards were created out of this desire to recognize local businesses that are Trussville Area Chamber of Commerce members and support the Trussville community. Nominations have been collected and three businesses will be selected and awarded the Emerging, Growing, and Legacy Community Impact Award at the May Chamber luncheon. These awards will be given annually.
HTHS Improvement Project:
Shelves!?!? These students decided to keep their city improvement project close to home and at Hewitt-Trussville High School! Braden Deal, Barrett Willingham, and Dalton Zimmerman recognized students do not have a place for their belongings in the restrooms. So they decided to install shelves. They formulated a design and made a model using donated brackets from Daniel Iron. They presented the idea to HTHS Admin and the TCS Director of Facilities and it was well-received.