Return to Headlines
Meet Mrs. Sherrye Tolbert: New TCS Board of Education Member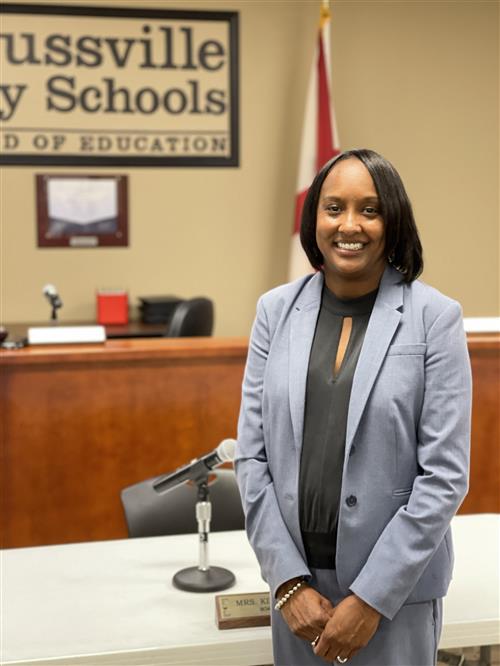 March 16, 2021


(TCS) - Mrs. Sherrye Tolbert was appointed to a five-year term on the Trussville City Board of Education by the Trussville City Council in early March 2021. Once officially on board this June, Mrs. Tolbert will fill the vacancy of Mr. Stan Garrett, who will be completing an incredible three-term run on the TCS Board of Education. A longtime Trussville parent and resident, Mrs. Tolbert shares some of her journey with us in this Q&A:


Q: Where are you from and what brought you to Trussville?


A: I am originally from West Point, MS, which is located fifteen minutes from Mississippi State University. After finishing high school, I attended Florida A&M University (FAMU) in Tallahassee, FL (Go Rattlers!). During my years at FAMU, I received my Bachelor's in Agribusiness and was involved in various organizations. In May 1996, I moved to Birmingham Metro for a job opportunity with Colonial Bank. After a year in the banking industry, I decided on a career path in Multifamily Housing. I have been working in the Multifamily Industry for more than 23 years and enjoy doing something to make a difference by providing individuals with one of the basic needs of life - shelter.


Q: What about your family?


A: I married my college sweetheart Bernardo Tolbert, and we have two exceptional, outgoing children. We are a family that loves sports, outdoor activities, traveling, and spending time with family and friends.


Q: How would you describe your children's educational experiences in Trussville City Schools?


A: In 2005, Bernardo and I decided to build our house in Trussville because of the newly-formed school district. We were excited that our children would have the opportunity to be part of something great. Tyler and Taylor attended Paine Elementary, Hewitt-Trussville Middle School, and Hewitt-Trussville High School. One of their best experiences was developing with teachers, coaches, and administrators across K12 - and getting prepared for college courses and adversity. During their years in high school, our children were selected to attend the leadership team, which helped enhance their leadership skills in all facets of life. Tyler and Taylor were involved in many organizations through their years in school. Two of my favorite memories were when the 2016 HTHS Cheer Team placed 3rd in UCA High School Cheerleading Nationals and the 2016 Hewitt-Trussville High School Baseball Team winning its first 7A State Championship. Those experiences were significant for all the students at HTHS and the Trussville community.


Q: What makes Trussville City Schools unique?


A: The academic curriculum, community involvement, administration leadership, and cohesiveness are a few attributes that make Trussville City Schools unique.


Q: What interests you about serving on the Trussville City Board of Education?


A: Serving on the Trussville City Board of Education allows me to be a servant-leader for the students, school faculty, and community by fostering transparency, advocating for student achievement, and providing structural support in mitigating inherent risks.


Q: What do you believe the future holds for Trussville City Schools?


A: In the next five years, I see the school system becoming one of the Top 3 School Districts in the State of Alabama by building on our strong foundation, increasing diversity, improving state test scores, college readiness, and offering an array of new academies.


Q: What are some of your favorite things about Trussville in general?


A: One of my favorite things is eating at one of the local restaurants, then heading out to watch the Huskies compete. Also, I enjoy shopping at the local boutiques we have in Trussville.