Return to Headlines
Dr. Rachel Poovey Joins TCS as Assistant Superintendent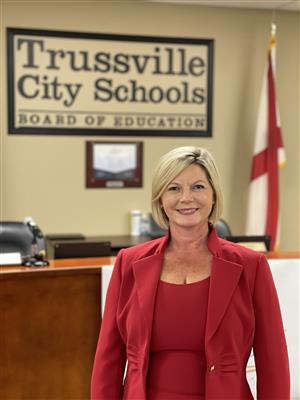 June 16, 2021

TRUSSVILLE - Dr. Rachel Poovey was appointed as Trussville City Schools' new Assistant Superintendent of Student Services at the June Board of Education meeting.
Poovey, a Jefferson County native, has served public education the past 26 years in a variety of roles for Decatur City Schools. In her new post with Trussville, she will oversee a number of areas ranging from special education to residency.
"The TCS position focused on my areas of strengths and working with all students and staff. The experience I could bring to the position from my diverse experiences in education and the learning opportunities for me are a great match," Poovey said.
Poovey is the current coordinator of developmental programs for Decatur City Schools. She has also been a teacher, assistant principal, elementary and middle principal, curriculum supervisor, and a special education coordinator.
"These jobs have given me experiences that address most, if not all, facets of education from elementary to high school and central office. I have worked with a variety of school systems to train and grow as an educator. My experiences as a parent also help me be empathetic to the community and the needs of the future as I work to create new opportunities in the schools," Poovey said.
Trussville Superintendent Dr. Pattie Neill looks forward to having Dr. Poovey join the TCS team.

"We had a rigorous interview process and Dr. Poovey met all the requirements for this position. Her experiences have prepared her for this level of leadership and her references confirmed our impressions of her expertise. We welcome Dr. Rachel Poovey to Trussville City Schools and we look forward to the ways she will enrich our team and our school system," Dr. Neill said.
Poovey joins TCS following the retirement of Dr. Mandi Logan, the current Assistant Superintendent for Student Services. Dr. Logan retired in June 2021 to begin a career in the private sector. In considering Trussville City Schools, Poovey noted the area's plans for growth in the decades to come.
"Reading the [City of Trussville's] 2040 Plan I could see the planning for growth and relationship between the city and the schools is strong. This job also brings me closer to my family and into a friendly, growing community and will allow me to rekindle some friendships from my childhood," Poovey said. "I have lived and worked in a wonderful family-focused community and to make this move for my family I wanted to ensure this would provide them the same or better opportunities. Trussville City more than exceeds those expectations."
Poovey holds a Bachelor's in Special Education from the University of Alabama, a Master's in Mental Retardation, and an Education Specialist degree in Administration from UAB. She received her Doctorate in Educational Administration from the University of Alabama. She is Nationally Board-Certified and is currently pursuing her national certification in assistive technology.
Her volunteerism extends to many community organizations and civic groups including Rotary Club, Salvation Army Board of Directors, and Decatur-Morgan Hospital Guild. Poovey serves as director of the Morgan County Distinguished Young Women Program through a collaboration with Limestone and Lawrence counties.
She and her husband, Michael, have two children - Jane Hollis (20) and Owan (17).